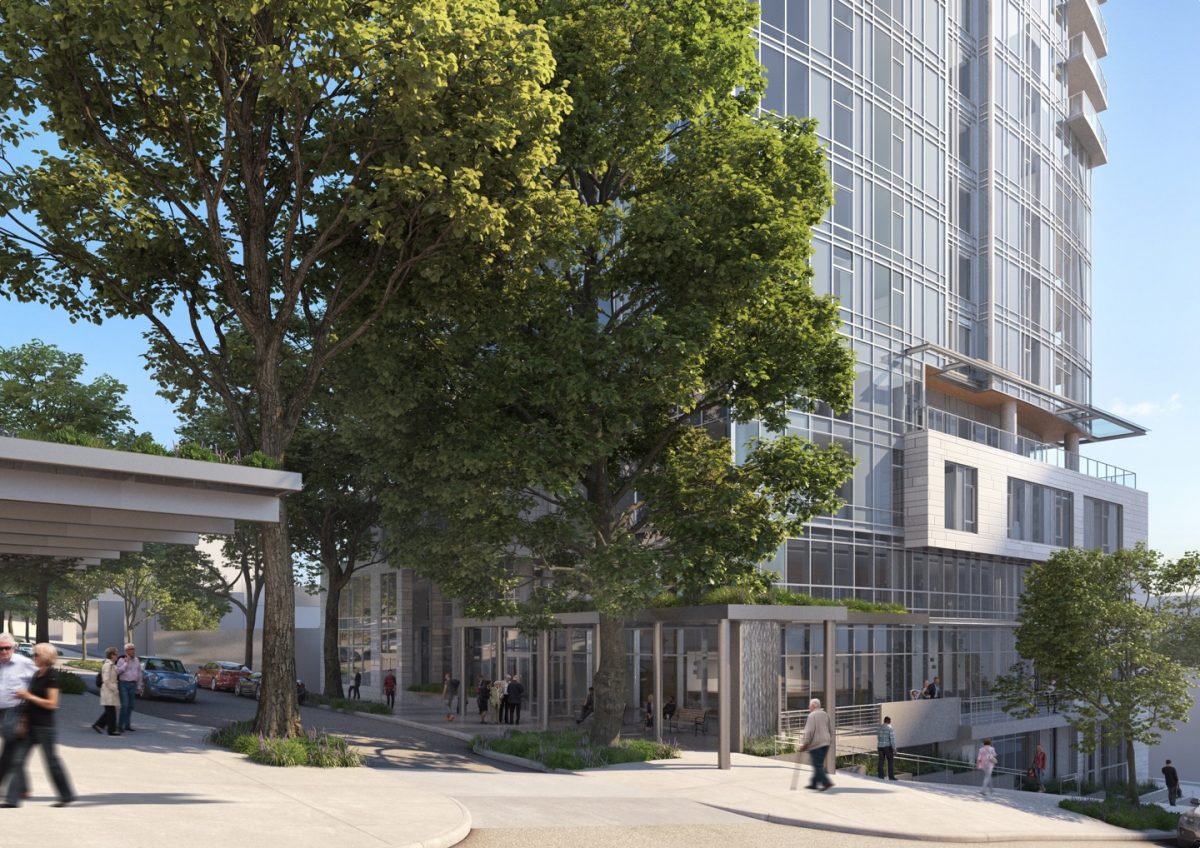 Published December 11, 2019 by Senior Housing News
By Tim Mullaney
In 2014, Presbyterian Retirement Communities Northwest (PRCN) was a small and struggling provider with three communities in the Seattle area. Fast-forward to the present day, and the organization has rebranded as Transforming Age, serves about 10 times as many seniors, and is pursuing further innovation and expansion — including through the $150 million Olympic Tower addition to its Skyline life plan community.
This reinvention has been led by Torsten Hirche, who came aboard as president and CEO in 2014. But, the organization was already primed for change when he took the reins, he told Senior Housing News.
"The board had actually put together the vision statement and mission statement, and that was already in place before I got there," he told SHN. "I think everybody was ready to take the organization to the next level."
Transforming Age is an example of a nonprofit senior living provider that has embraced risk in a bid to gain scale and sophistication at a time when some senior living leaders fear that the nonprofit sector overall has become too cautious and is ceding the market to for-profit competitors.
Laying the groundwork for growth
Large and complacent boards have been cited as one reason why non-profits are less proactive and nimble than their for-profit counterparts, and board changes were made early in Hirche's tenure.
The organization streamlined from a board of 21 members with multiple committees to just nine people, who signed off the strategic plan that management presented.
"Planning speed and execution speed has just dramatically increased, because you have that structure in place," Hirche said.
A first order of business was strengthening the existing portfolio, where Hirche saw opportunity but the need for significant investment — for instance, at the Parkshore community, which was not positioned to fully benefit from its prime real estate on Lake Washington, with views of Mount Rainier and the Olympic Mountains.
"The organization hadn't really paid attention to it … so, [it was] kind of a tired asset, and occupancy was low," Hirche said.
In trying to breath new life into Parkshore and tackle other parts of the strategic plan, Hirche drew on his previous experience. He began his career at Pacific Retirement Services, where he rose to become vice president of operations, and then he went on to run an Oakmont Senior Living community, giving him a taste of the for-profit world. But, his heart is with non-profits, he told SHN, and part of what compelled him to take the position with PRCN was the opportunity he saw to grow the company and expand the mission.
But he and the board viewed such growth not only as a mission-oriented goal but as a business imperative.
"Early on, we had conversations of what do we need to do to be sustainable and successful in the long term with our mission and our vision of transforming the perception of age, and two things became very clear: we have to not do things the way we've done it in the past, and we have to grow to gain scale to be at the table long term," he said.
Those twin goals were embodied in the rebranding to Transforming Age in 2016 and in affiliations that the nonprofit began to undertake at a quick pace the next year. Its affiliation with Full Life Care saw Transforming Age combine forces with the one of the largest adult day and in-home care providers in Washington State.
But the most dramatic expansion play came early in 2017, when it acquired a portfolio of eight properties in Minnesota's Twin Cities for $138 million. The portfolio was acquired from a joint venture of Life Care Services and Harrison Street, and totaled more than 1,000 units with a mix of active adult-style apartments, assisted living and memory care.
This transaction provided valuable diversification by giving Transforming Age a sizable footprint in a new market while also providing a basis for the organization to build up a middle-market offering focused on the lower acuity apartment-style properties, Hirche said.
Indeed, Transforming Age is pursuing a strategy of offering senior living and care options at every price point, from affordable to middle-market to high-end. To this end, it affiliated earlier this year with Downtown Action to Save Housing (DASH), which serves almost 1,600 people in 13 affordable communities in Washington's Kings County.
Through these and other affiliations, Transforming Age today serves about 7,500 seniors annually. That's a 10-fold increase from the number of people being served when Hirche first joined the organization.
While some of the more recently affiliated communities are occupancy-challenged, Hirche said that with its larger scale, Transforming Age now has the operational firepower to help improve these numbers. And occupancy in the stabilized portfolio is in the mid- to high-90% range, he said.
All this growth has come with a pricetag, but Hirche touts Transforming Age's financial strength.
"We have significantly strengthened our balance sheet over the last five years, just because all of our operations that came under our umbrella become stronger," he said. "We make investments [in improving their performance], and then eventually we get repaid and have a strong affiliate that contributes to the overall financial success with a better product."
Operating revenue increased from about $70 million in 2017 to about $110 million in 2018, according to consolidated financial statements. Operating expenses also increased in that timeframe, but after a deficit in 2017, revenues exceeded expenses in 2018.
The next stage of transformation
Today, Transforming Age is organized under five verticals that the organization refers to as "spheres." These are: housing, community services, technology, philanthropy and business services.
The concept is that through these spheres, Transforming Age will be able to create a holistic and customized approach to meeting the particular needs of different types of customers.
One example is in the effort to create a middle-market offering. This is a big push that providers across the industry are also undertaking, given the huge cohort of aging baby boomers who will not be able to afford private-pay senior living at today's prevailing market rates. But developing a sustainable operating model that lowers expenses without sacrificing quality is a challenge.
Transforming Age believes that it will take a mix of new technologies and community-based services, overlaid on housing. But there must be flexibility in the model as well.
"You have to combine the three to really make it accessible … and you won't be able to do that with a cookie cutter model, one-size-fits all approach, because it's different if you're in Wayzata, Minnesota; San Diego, California; or New York City," Hirche said.
A range of technology will be needed, he believes, including machine learning platforms to drive operations, and tech to take over some tasks currently done by humans, to make labor more efficient. But Transforming Age is not afraid to be on the leading edge of more experimental types of technology.
The organization has partnered with Seismic, a startup that has raised more than $20 million and is creating "Powered Clothing." These are suits that include robotic components to assist with activities of daily living such as standing up or carrying objects.
"I have my own suit, it feels phenomenal," Hirche said. "As that technology gets refined, I think it's just going to be a game changer for people who want to be more independent longer."
The suits also have applications for senior living workers, he added. Transforming Age has committed to introducing "a few hundred" suits that will be used by both groups, with the big testing push likely to come next year.
While excited by these innovative moves, Hirche is also focused on the blocking-and-tackling that the company is doing to enhance its portfolio. One milestone came in the fall, with a ribbon-cutting on a $30 million renovation at the Parkshore community that Hirche found in need of upgrades when he started as CEO.
And, more dramatically, Transforming Age broke ground on the $150 million Olympic Tower at Skyline project in October.
The Skyline life plan community in Seattle's First Hill neighborhood first opened in 2009, in the teeth of the Great Recession, but found its footing and ultimately grew a long waitlist. After Hirche became CEO, he and the board decided the time was right to expand by building on adjacent land already owned by Transforming Age. In doing so, Transforming Age joins a growing list of both for-profit and non-profit providers pursuing highrise, urban developments. In Seattle, Leisure Care recently opened such a building.
Transforming Age's Olympic Tower will catere to active adult residents, with 77 one- and two-bedroom units as well as penthouse apartments. The building will also include amenities such as a spa, bar, cafe, Skylounge club room and 240-seat performing arts center. It is scheduled to open in 2021 and is 70% presold.
Hirche acknowledges that the reinvention of Transforming Age has come with challenges, including tough decisions around capital allocation and how to deploy human resources most effectively. And, there will be failures along the way as the organization tests new service models and technology investments. But he believes that the evolving senior living marketplace demands that providers be willing to take some big swings.
"We have good resources, and we have good partners," he said. "It's easier when you're just pursuing one business model to maybe test something here and there. But if you try to create something that hasn't really existed yet, it's fun, but it's also challenging."