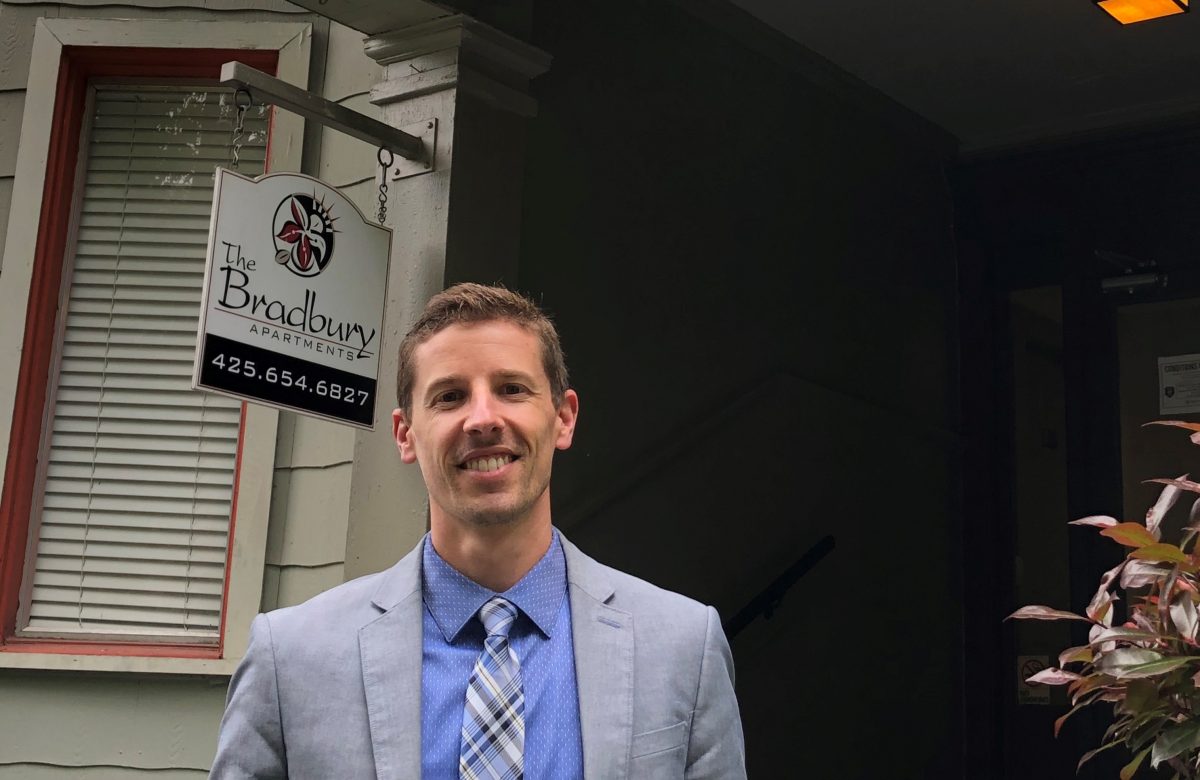 It's always nice to get new neighbors. Even nicer when they're folks you already know and trust.
Skyline residents in downtown Seattle will be seeing exactly more of that in the coming months as DASH (Downtown Action to Save Housing), a Transforming Age affiliate, renovates a neighboring apartment building with their hard-working, friendly team members in mind.
Transforming Age in December purchased The Bradbury Apartments at 718 Cherry St., just around the corner from the Skyline continuing care retirement community. The 32-unit Bradbury is a classic Seattle turn-of-the-20th century charmer with cozy studio and one-bed units. Perfect for young professionals, especially if they're the associates who serve Skyline residents every day.
The challenge is clear – affordable housing in dense, urban areas has been declining locally and nationwide for more than a generation. Meeting that challenge here has been the mission of DASH for nearly three decades.
Working with community partners and funders, DASH has created more than 1,000 units of housing in one of the most efficient ways available, by simply preserving and managing what already exists. Over the years DASH has managed more than $100 million in assets and its current portfolio includes more than a dozen properties.
"When the Bradbury came on the market we immediately saw an opportunity," said Kim Loveall Price, DASH Executive Director and Transforming Age Vice President of Community Development. "Skyline residents could have team members who they're fond of and have strong relationship with will be able to live close to where they work. And we can offer affordable housing to team members that's just minutes away."
The $7.4 million investment has another side benefit for Skyline residents. The land is zoned for high rise development, meaning another developer could have razed the existing building and erected its own skyscraper. Transforming Age intends to keep the current three-story structure, thus preserving the western vista for Skyline residents.
Work has already begun to renovate two vacant units. More will be updated as they become vacant.
Eventually, the plan is to lease half the units to team members at a rate reduction adjusted to their income, with the remainder leased at market rates. So, for team members who choose to, they get to live in vibrant downtown Seattle at a cost that makes sense for them, just minutes away from where they serve, an urban lifestyle the way it used to be.
The rate reduction will be funded under a subsidy plan that DASH and Transforming Age are establishing.
"We're hoping to establish a fund that Skyline residents can contribute to and help us make this work financially," Loveall Price said. "We think it's a great opportunity for our residents to assist our great team. If this works we could see this model expanded for even more Transforming Age team members in the future."