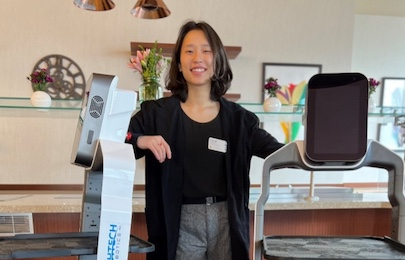 By Emma Carlblom, Intern
This summer, I had the incredible opportunity to embark on a cross-departmental internship at Transforming Age. It was an experience that allowed me to explore various communities and departments within the organization, gaining valuable insights into the senior living industry. In this article, I want to take you on my personal journey of discovering my true calling in the world of senior living.
Who am I? I am a part of Generation Z, born between 1997 and 2012. Our generation is known for its diversity and global presence. We are on track to be the most educated generation and deeply concerned about the environment. Interestingly, 70% of us have access to a Netflix subscription, highlighting our significant digital presence and influence on the entertainment industry. My generation grew up during the Great Recession, a time marked by widespread unemployment and financial uncertainty. This experience has instilled in us a strong desire for stability. We've also been shaped by significant events, such as the election of Barack Obama as the first African American US President, the unfortunate prevalence of school shootings, and the looming threat of climate change. The COVID-19 pandemic disrupted our high school and college experiences, robbing us of many traditional coming-of-age milestones. Growing up in such uncertain times has made me value stable employment and long-term career growth.
One striking statistic I came across is that by 2034, over 77 million U.S. citizens will be 65 and older. This demographic shift makes industries like senior living, dedicated to serving older adults, promising in terms of rapid growth and stability. And what's more, senior living is a field where human work is irreplaceable by AI, adding an extra layer of job security.
One of the most common misconceptions about senior living is that it's solely about caregiving. However, during my internship I had the chance to see the vast array of disciplines that Gen Z individuals like me can explore in this industry. It takes many types of roles to support a senior living community. Throughout my summer, I worked with professionals specializing in social work, pet therapy, culinary arts, engineering, IT, resident engagement, hair styling, music, marketing, and customer service. What truly inspired me were the stories of team members who had started as receptionists and had gone on to assume key roles. The flexibility to explore different career paths aligned with my personal interests and skills, offering me a sense of ownership.
Gen Z and technology go hand in hand. An overwhelming 80% of us hope to work with cutting-edge technologies, and 91% consider technology the most important factor when choosing a job, according to the World Economic Forum. The senior living industry has recognized this trend and is embracing innovation to meet the evolving needs and preferences of the aging population. During my internship, I was amazed to work alongside dining server robots named "Salt" and "Pepper." I also collaborated on a software project to develop a new technology platform called Transforming Age Plus.
What made my experience truly exceptional was the "gracious environment" I found every day at work. Connecting with older adults and learning firsthand about eras I hadn't experienced, like wartime, segregation, and the Great Depression, was invaluable. It's a two-way exchange where elders teach us how to age gracefully, and we teach them how to stay young at heart. After enduring years of remote learning, masks, and social distancing, I believe that Gen Z, like me, is eager to be part of a community and seek human connection. I found both during my summer working with older adults.
At the start of my internship, I was unsure about my future career aspirations. However, this transformative experience provided me with clarity and a clear career path. I am now on journey to become a registered nurse (RN) and have started nursing school. My story illustrates that Gen Z individuals can find their true calling in the senior living industry, contributing to the well-being and enrichment of older adults' lives. In conclusion, my journey of discovering my true calling in senior living has been nothing short of extraordinary. It's a field where stability, diverse opportunities, and a commitment to innovation intersect, making it an ideal path for Gen Z individuals like me who are eager to make a difference while pursuing a fulfilling career.