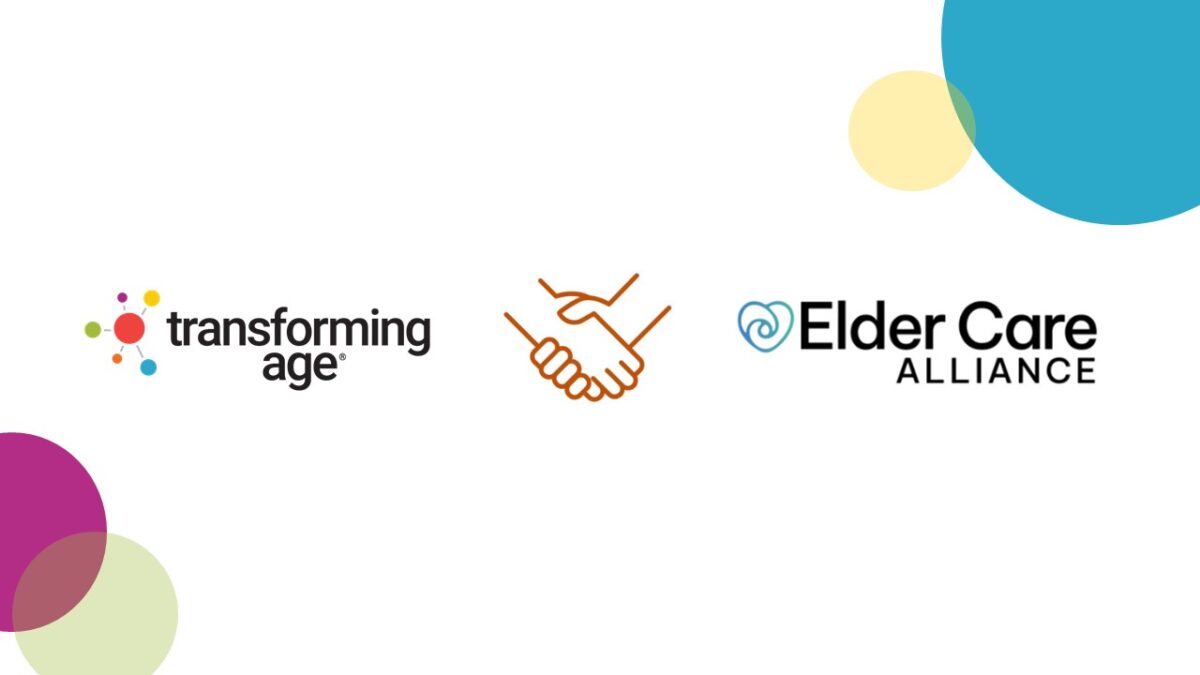 Today, Transforming Age and Elder Care Alliance (ECA) are excited to announce that they are affiliating, and ECA is joining the Transforming Age network in a strategic move that brings together the two nonprofit organizations to enhance their shared commitment to enrich the lives of older adults. By combining their expertise, together the two organizations aim to strengthen and grow their mission impact and better address the evolving needs of older adults, across the economic spectrum.
Transforming Age is one of the nation's largest nonprofit senior living providers, serving more than 100,000 older adults by integrating housing, community services, technology, philanthropy and partnerships. Transforming Age is recognized for their robust nonprofit mission, commitment to creating a culture of excellence, and their diverse network of affiliates that serve older adults across the economic spectrum.
Guided by a similar set of values and rich culture, San Francisco Bay Area-based Elder Care Alliance is a non-profit system serving almost 10,000 older adults across five communities and a system of community programs throughout California. The organization came together more than 25 years ago and has founding roots dating back to the 1870s with the Sisters of Mercy. Elder Care Alliance had been in search of a partner to help expand their mission impact in a more socio-economically diverse way. Throughout ECA's search process, Transforming Age came to the forefront due to their compelling vision that aligned with the strategic vision cast by ECA.
Under this new partnership, both organizations will leverage their combined strengths to broaden their service offerings, providing older adults with an expanded array of programs, innovative care options, and sustainable housing solutions. ECA has implemented several groundbreaking programs, including their engagement-focused memory care program that is based on the "I'm Still Here™" methodology. ECA's Mercy Brown Bag Program distributes over 144,000 bags filled with groceries to almost 9,000 older adults struggling with food insecurity annually. ECA's network of five communities serves 660 residents through 450 team members.
"This search process was different than others I have been a part of in the past. The affiliation between Elder Care Alliance and Transforming Age represents a true partnership, with real synergy – not just in culture match but strategic vision. I am excited to see how together we might transform aging," said Adriene Iverson, CEO of Elder Care Alliance. "We look forward to collaborating with and learning from one another as we strive to positively impact the lives of older adults and their families."
The ECA affiliation also bolsters Transforming Age's presence in California, the state with the highest population of residents over the age of 65. The Transforming Age network of affiliates, which recently announced the opening of a second headquarters in Omaha, Nebraska, owns and operates over 75 communities in 23 states.
"We are thrilled to welcome Elder Care Alliance to the Transforming Age family," said Torsten Hirche, President and CEO of Transforming Age. "By uniting forces, we gain even greater strength across all five of our mission spheres in a joint effort to enable older adults to truly live without limits."
About Transforming Age
Transforming Age is a nationally recognized nonprofit organization offering holistic and integrated solutions that enable people to age successfully. Dedicated to creating unlimited possibilities to enhance the lives of older adults, Transforming Age offers an integrated network of housing, community services, technology, philanthropy and partnerships. With over 2,200 team members, Transforming Age serves over 100,000 people across the economic spectrum in 75 affordable and market rate communities, in addition to providing home and community-based services to low-income seniors. Transforming Age and its affiliated foundations provide philanthropic programs aimed at supporting those in need of financial assistance, the creation or enhancement of programs and services. Transforming Age also provides business service solutions to industry partners including management, development, and consulting services. The organization's technology initiatives aim to improve the lives of older adults and those who serve them at scale.
About Elder Care Alliance
Located in the San Francisco Bay Area and Ventura County, Elder Care Alliance communities have been a trusted name in senior living and memory care in California for more than 25 years. ECA's Mercy Retirement and Care Center traces its roots back more than 150 years. ECA strives to create communities that are not just places where older adults live but places where older adults flourish. ECA's vision is to enable places where people are empowered and engaged while working to transform society's view and value of older adults.