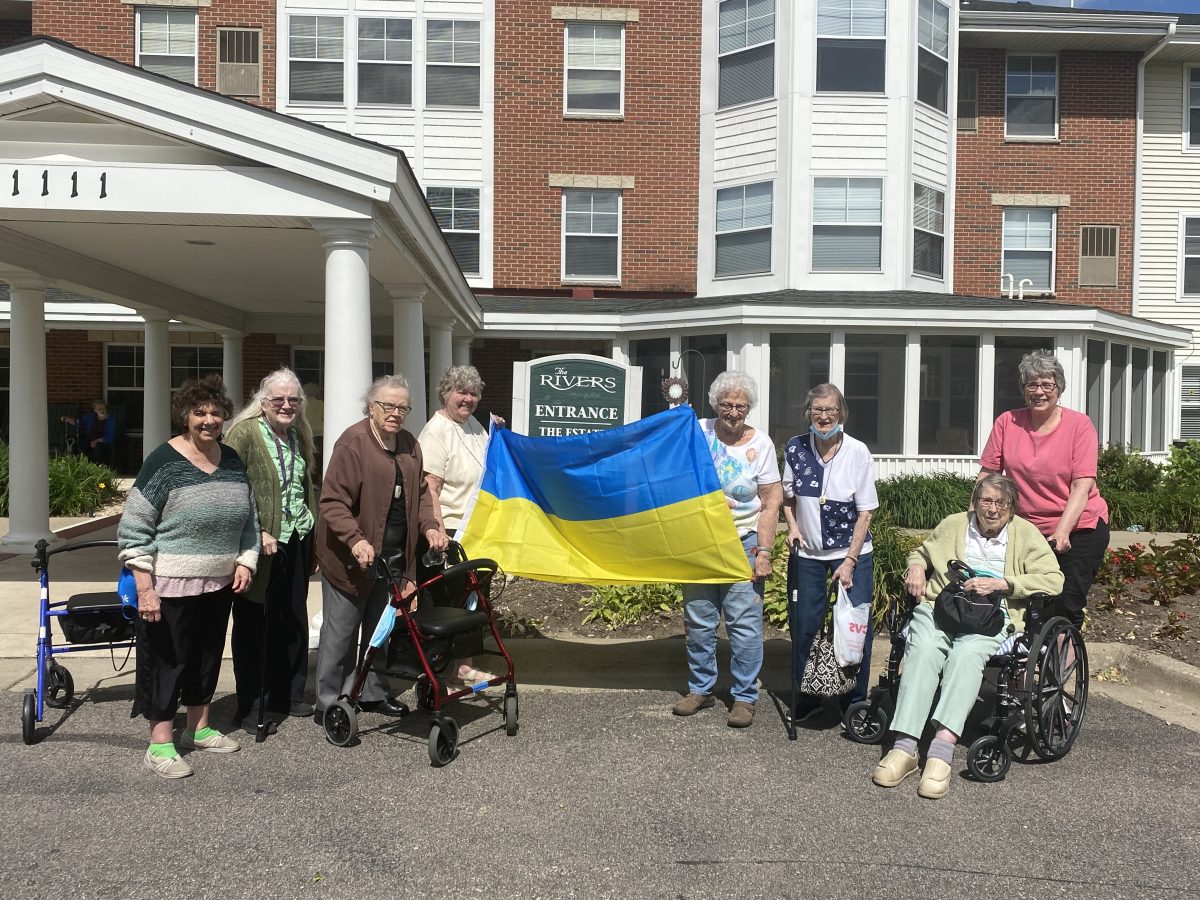 Resident Care Manager Lidia makes a big impact, with a little help from The Rivers
All her life Lidia has put herself second. "Because I can help people," she explains with a bashful smile. But helping people hasn't always come without sacrifice. Born and raised in Poland, Lidia studied to become a registered nurse and got her license to practice in Poland at the age of 24. Early in her career and not long after starting a family, Lidia was offered the opportunity to immigrate to the United States to be closer to her husband's relatives in Rochester, Minnesota.
"It was an opportunity for my daughter," Lidia explains, "so that she wouldn't be stuck."
Lidia and her daughter packed up the comfortable life they knew in Poland, to reunite with her then husband in Minnesota, where they shared a small apartment and did not know any English.
Immediately Lidia enrolled in ESL classes and started her nursing education all over. Studying to become a certified nursing assistant was incredibly challenging, having only begun to learn the language. But Lidia was committed to advancing her career so that she could provide for her daughter and send money back home to Poland. Over the next 15 years she worked in nursing homes, picked up night shifts at the hospital, and worked with patients affected by mental illness.
"Not everybody can do nursing," Lidia recounts, "nurses on the floor are really working hard."
Committed to her family and helping those back home in Poland, Lidia continued attending school after school to increase her nursing certifications and advance her career and earning potential, "I became a CNA, then a TNA, and now I am an LPN. I work as a residential care manager helping residents and families here at The Rivers." The Rivers is a Transforming Age community in Burnsville, Minnesota that offers independent living, assisted living, and memory support to older adults.
Lidia is living our Culture of Excellence and transforming the perception of age. At 65 she knows all too well that age is just a number. "I do as much, if not more, than people half my age." As Lidia opens up about her life, one cannot help but be humbled.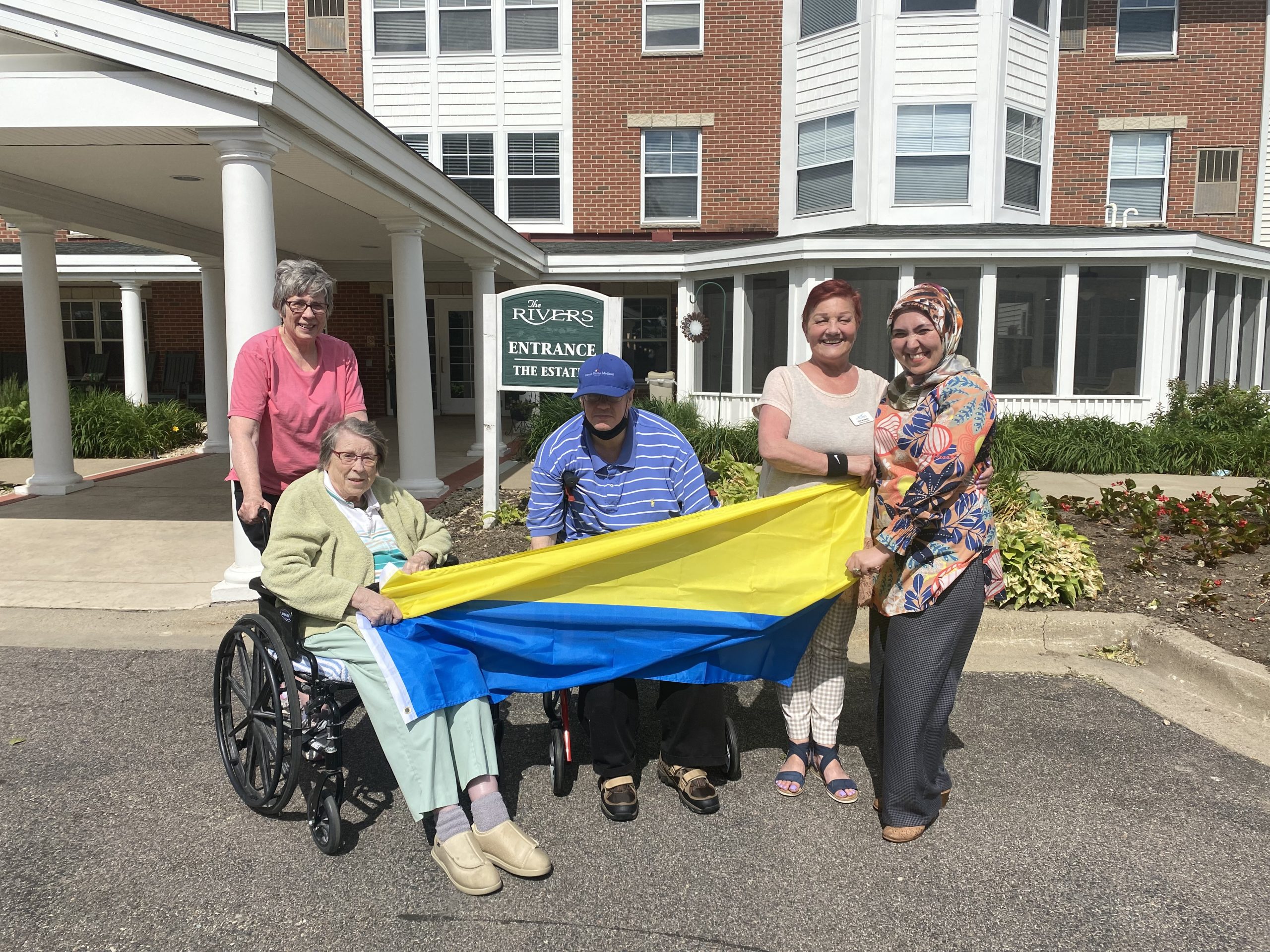 Thankful for the life both she and her daughter have built in the US, Lidia is committed to sharing her the fruits of her labor and providing financial support to her two sisters back home in Poland. Lidia tears up as she talks about her older sister, whose name she would prefer not to share to protect her identity. Lidia's sister lives in a small Polish town near the Ukraine border. "I'm sure you follow the news and knows what is out there," Lidia says, "it is really bad. They are very close to the Ukrainian boarder. Less than one hundred miles from the war. Being so close they are in huge fear. People don't know if Poland will be next. They don't know what tomorrow brings."
Despite the danger and fear, Lidia's sister provides temporary housing for Ukrainian refugees. "My sister opened her house to a mom and three kids for a month, the whole upstairs." And her sister was not alone. The entire town has welcomed families fleeing the war in Ukraine. They even opened a school for the children, an effort organized by Lidia's sister, who is also a retired teacher. "It's a place for the kids to learn Polish, which is a very difficult language. A safe place to play, to get to know each other," Lidia says. "Polish kids have become friends with the Ukrainians. Everyone is together." Tearing up, Lidia takes a moment, "I'm sorry. Oh Lord."
As she collects her emotions, Lidia explains, "One day I came to my office and found a big envelope with my name on it." Her coworkers at The Rivers had fundraised a large cash contribution to boost Lidia's unyielding wire of funds to her family. "My sister was crying," Lidia recounts.
News quickly spread amid The Rivers and people began asking Lidia about her family. Residents of this senior living campus banded together, also compelled to contribute funds to wire to Poland.
"The simple thoughts of people," Lidia professes. "I'm not begging. The whole world knows what's going on. There is nothing to hide." She pauses as she reflects and mist gathers in her eyes, "Receiving by giving."
Many people who provide care throughout the Transforming Age network are building new lives while also giving back to their home communities. You can learn more about our work to promote philanthropy that benefits older adults and people who provide care on our philanthropy page. Learn about joining our caregiving teams.