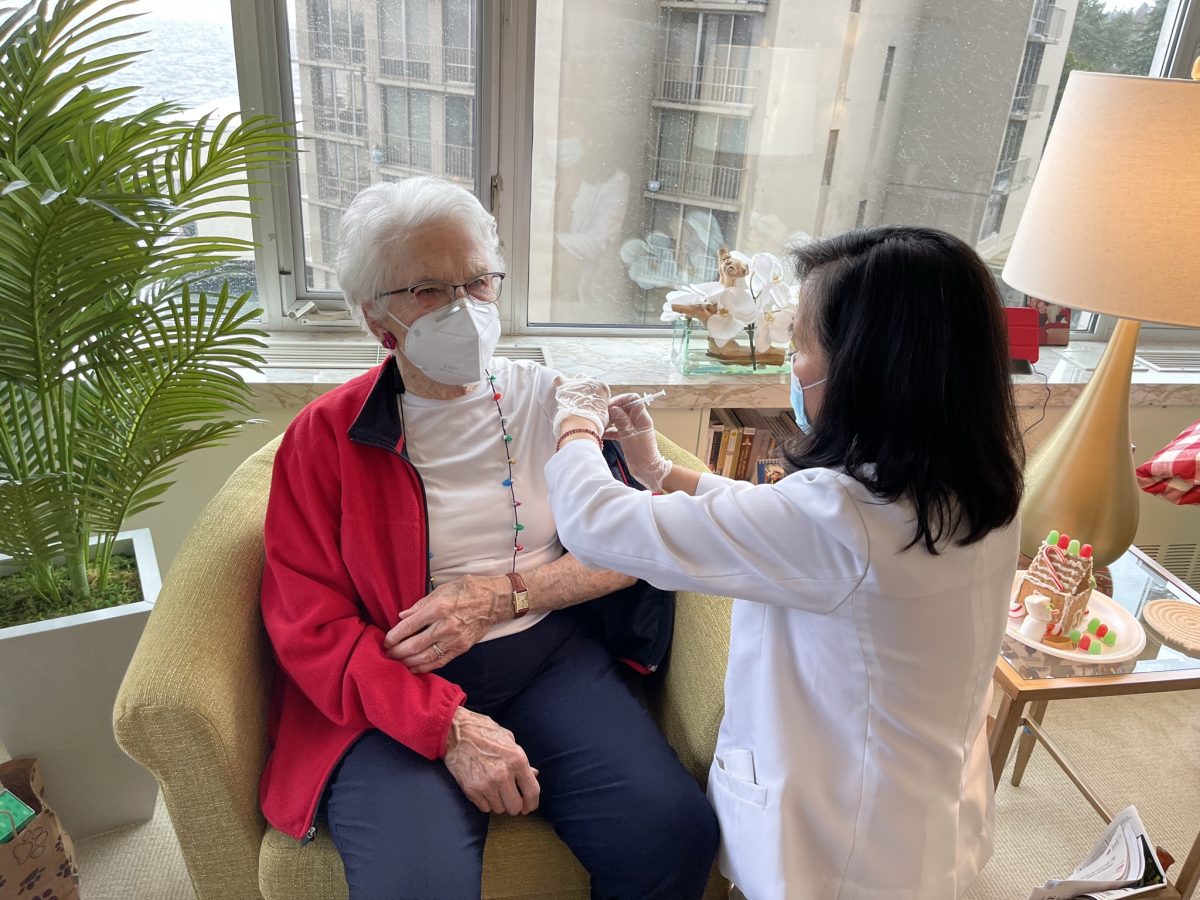 COVID-19 vaccine delivered by mobile unit by Consonus Healthcare to six Transforming Age communities this week
SEATTLE – December 21, 2020 – Transforming Age, a nonprofit organization dedicated to improving the lives of older adults, today announced the Parkshore senior living community it operates on the western shore of Lake Washington received the first delivery of COVID-19 vaccines allocated to seniors and frontline care givers and staff in long term care communities in Washington state. Residents and frontline staff received the vaccine delivered by a mobile unit of Consonus Healthcare, a non-retail pharmacy specializing in geriatric pharmacy services for long-term living communities and one of seven non-retail pharmacies in the nation chosen by the CDC to distribute the vaccine to long-term care communities.
"We are very grateful and excited to be part of this next chapter of hope in Washington State," said Transforming Age CEO Torsten Hirche. "We applaud Governor Jay Inslee's support of this herculean effort to begin vaccinating our seniors and health care workers. Our partnership with Consonus Healthcare and the hard work of the Pfizer scientists to deliver a safe and effective vaccine in record time made it possible for our residents and hardworking frontline staff to be part of this historic moment. Most importantly, the vaccines will allow our residents and our staff to remain safe and healthy and continue living their lives to the fullest."

"This shot is the beginning of the end," said LaVaughn Therriault, resident of the Parkshore community. After being the first resident to receive the vaccine, Therriault stood up and did a little dance of excitement alongside the Parkshore nursing team responsible for administering the vaccine.

In partnership with the Consonus Healthcare medical staff, Transforming Age nursing staff administered the Pfizer-BioNtech Covid vaccine at Parkshore to eligible seniors beginning at 9 a.m. today. All six Transforming Age communities in Seattle, Kirkland and Vashon Island are slated to host vaccination clinics before the end of the year. The communities serve seniors across the economic spectrum, including adults with limited income, Medicare and private pay.
"Along with Consonus Pharmacy's expertise in storing, tracking, handling and dispensing complex drugs and vaccines, we have what's most important—the trusted relationships earned only after years of advocating for the senior care community. Safely and effectively administering the COVID 19 Vaccine is just a natural extension of what we do and spotlights the importance of facilities partnering with trusted advisors and pharmacists," said Neil Marshall, President of Consonus Pharmacy in a statement approved by Consonus Pharmacy.
Transforming Age health and wellness teams have prepared for the arrival of the vaccine for weeks. The logistics of receiving and administering the vaccine are complicated and precisely choreographed, due to the vaccine needing ultra-cold storage facilities. The Consonus Healthcare mobile unit vaccination team will continue to work closely with the Transforming Age nursing and clinical teams to administer the vaccine to residents and healthcare workers throughout the nonprofit's six Pacific Northwest communities.
Recognized locally, regionally and nationally as a leader in nonprofit senior living and care, Transforming Age has increased its offerings, services and partnerships dedicated to enhancing the lives of older adults. The organization provides housing for more than 3,500 people in Washington, Minnesota and Nebraska in communities ranging from affordable and workforce housing to independent living, assisted living, memory care and continuing care retirement communities (CCRCs). In addition, Transforming Age provides social and community services to 4,000 seniors through its affiliate Full Life Care, serving over 9,000 people nationwide.

About Transforming Age
Transforming Age is a leading not-for-profit organization with a mission to create unlimited possibilities to enhance the lives of older adults by integrating housing, community services, technology, philanthropy and partnerships. Founded in 1956, the organization operates 28 communities in Washington, Minnesota and Nebraska. In addition, its affiliated partner, GSI Research & Consulting, provides business service solutions to the industry. Its affiliate Full Life Care provides critical home and community-based services to older adults and people with disabilities. The Transforming Age Foundation and affiliated foundations provide philanthropic programs aimed at supporting those in need.
###
media contact: Kristen Crawford, kcrawford@transformingage.org