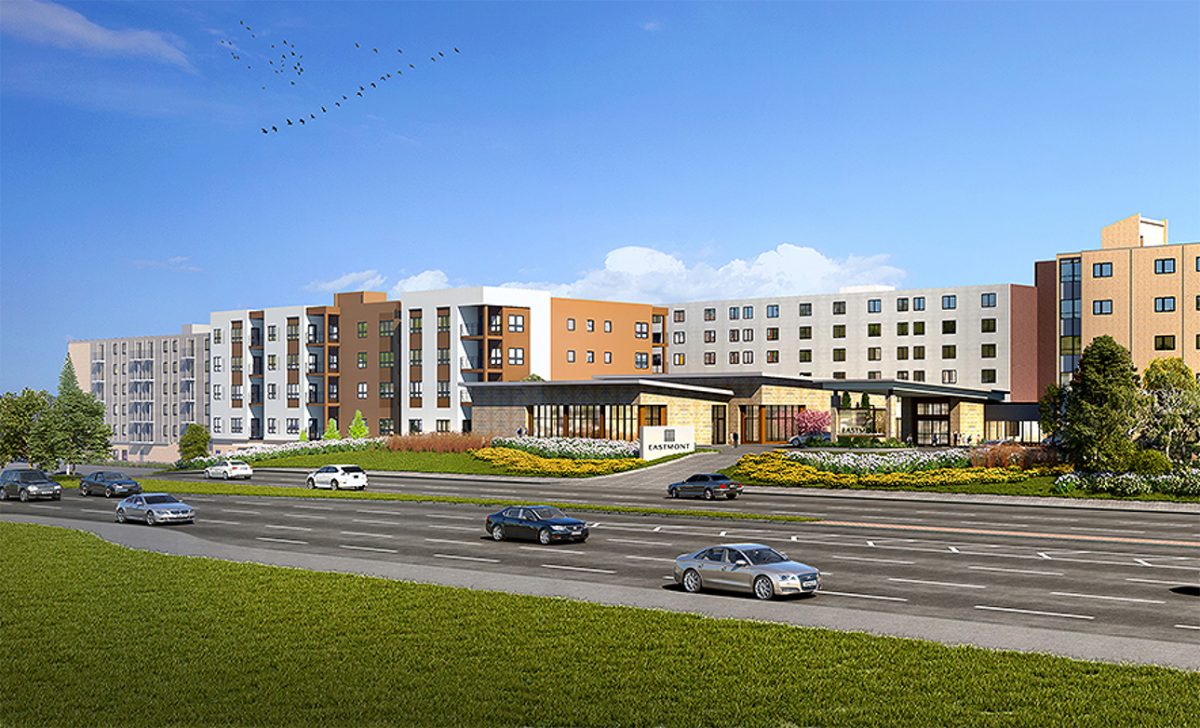 Strengthening community and building a better lifestyle for the seniors of today and the future
Lincoln, NE – March 15, 2021 – Transforming Age, a nonprofit senior living organization today announced the groundbreaking of their expanding Eastmont campus on April 14, 2021. Eastmont, a CCRC (continuing care retirement community) founded in 1965 is adding several new campus amenities and 50 new apartment homes. The groundbreaking ceremony includes nominations from the public for two local Lincoln charities to each receive a $5,000 donation. The virtual groundbreaking ceremony also features remarks and reflections from Andrew Fisher, Eastmont's Executive Director and Torsten Hirche, President and CEO of Transforming Age, the nonprofit parent organization that operates Eastmont.
Since Eastmont opened in 1968, the nonprofit retirement community has expanded its iconic "O" Street location to three residential towers known as The Springfield, The Sycamore, and The Saratoga along with The Seasons Assisted Living. The campus offers a full continuum of care, which has served the residents of Lincoln for over 50 years. This latest expansion will bring a new residential tower called The Stratford to the existing campus and will feature 50 one and two-bedroom apartment homes. The Expansion Project is artfully designed and connects all buildings internally by one-story circulation paths that provide access to courtyards and beautiful gardens and indoor/outdoor spaces. The project, which took nearly two years to research, masterplan, and design will also bring several state-of-the-art upgrades to the existing campus to enhance the lives of existing residents and appeal to seniors in the years to come.
After affiliating with Transforming Age in 2017, Eastmont launched into a strategic planning process rooted in innovation with the focus being to respond to the changing needs of the next generation of seniors. A resident liaison team made up of eight Eastmont residents was established early on and has provided valuable feedback to the design team, ensuring the expansion would align with the nonprofit's mission to enhance the lives of older adults. This dedicated group of residents was an integral part of the process as the architects and design team programmed lifestyle amenities for Eastmont including a pool and fitness center, performing arts center, a bistro, outdoor gathering spaces, porte-cochere and a new entrance.
"Eastmont is rejuvenating its entire campus to cater to their residents' whole-person wellness," says Leslie Moldow, principle architect at Perkins Eastmont, the architectural firm that designed the Expansion. "The exciting design knits the campus together placing opportunities to socialize, learn, strengthen, dine, and connect at the heart of the community." Lincoln Architecture firm arCuretecture collaborated on the expansion's design and Sampson Construction, a local construction company, will serve as the general contractor.
Scheduled to open in late 2022, the expansion is more than 50% presold and depositors are eagerly awaiting move-in day. Despite the challenges presented by the global pandemic, Eastmont experienced record sales momentum throughout 2020 allowing the organization to secure financing for the Expansion and proceed with construction as anticipated. The Expansion's success illustrates the demand from active seniors who strongly desire a connected community as they age. "For over 50 years Eastmont has attracted residents who value lifelong learning, a vibrant lifestyle and a secure plan for the future. The growth of our campus demonstrates how the paradigm of aging is changing," said Andrew Fisher, Executive Director of Eastmont, "Eastmont is a natural choice for the seniors of today and tomorrow."
Today, 10,000 seniors are turning 65 each day as the baby boomers reach retirement. As a group, boomers want to stay connected to their community. Eastmont residents are no exception, actively volunteering at Lincoln non-profits including Meals on Wheels, People's City Mission, and United Way while also taking on charitable initiatives like the Maskbrigade and keeping Taylor Park clean. For this reason, Eastmont wanted to honor their spirit of giving back to Lincoln while also celebrating the historic groundbreaking of their Expansion. Both Sampson Construction and Eastmont have each pledged to donate $5,000 to a local charity; they are welcoming votes from Lincolnites and will conduct a drawing to determine the two winning charities at their virtual groundbreaking event on April 14th.
"We understand that building community is so much more than expanding our campus," says Fisher, "Throughout our 50 year history, we have been committed to the good of not only our Eastmont community, but to our community at large. During these uniquely challenging times, it's important that we do our part in making a meaningful difference in the lives of those around us."
For more information about nominating a local Lincoln charity or about Eastmont's Expansion, visit Eastmontliving.com.
##
About Transforming Age
Transforming Age is a nationally recognized leader in nonprofit senior living and care dedicated to creating unlimited possibilities to enhance the lives of older adults by integrating housing, community services, technology, philanthropy and partnerships. The organization provides housing and services to over 14,000 people nationally including affordable and workforce housing, independent living, assisted living & memory care and continuing care retirement communities. Its HCBS affiliates provide social and community services including home care, adult day health and social & health care coordination to thousands of older adults. Transforming Age affiliated foundations provide philanthropic programs aimed at supporting those in need of financial assistance, the creation or enhancement of programs and services. Transforming Age also provides business service solutions to industry partners including management, development, and consulting services. The organization's technology initiatives aim to improve the lives of older adults and those who serve them at scale.
About Eastmont
Founded in 1965, Eastmont is a faith based, comprehensive senior lifestyle community which offers independent living, assisted living, skilled rehabilitation, long term and end-of-life care. As a not-for-profit, Eastmont is mission driven, embodies distinct values that guide daily operations, and is committed to being the choice provider of progressive senior living services where individuals thrive in all stages of life.