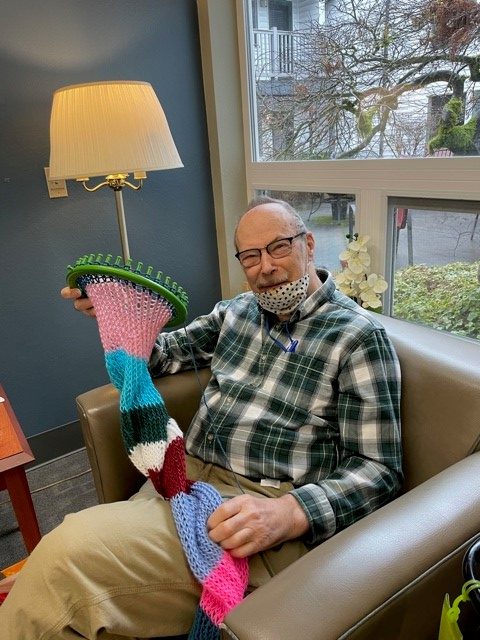 Thanks to a circle of caring, at least 30 handmade scarves are now sending the message of care to Chief Seattle Club members courtesy of Evergreen Court Retirement Community Members.
An article in the Seattle Times quoted Executive Director, Colleen Echohawk, as needing toiletries at Chief Seattle Club, and the daughter of an Evergreen Court resident responded by dropping off what she had. While dropping off the toiletries she asked what else might be needed and one of the items mentioned were scarves. She thought of asking her mom, a resident of Evergreen Court, if she would knit a scarf thinking this might be a good way to engage her mom with purposeful activity during Covid. After realizing that the Chief Seattle Club needed more than one scarf, her mother put her best talent to use and went out to recruit to get the job done. The persistent crocheting resulted in 20+ scarves by Christmas. After the first batch of scarves were dropped off on Christmas Eve, there was not enough yarn left for make more scarves.
This too was solved in a way that helped people. A request sent out to neighbors and friends which resulted in strangers gladly clearing out closets and unfinished projects out of cluttered closets. All were delighted to both help and gain space at the same time. The crocheting is continuing and more scarves have been dropped off.
The end result is that many people got to give and in the act of giving received. In the case of Evergreen Court, residents were on lock down with no visitors, no interaction, and normal activities suspended. Having a sense of purpose and contribution can be difficult in senior years and finding something that can produce a sense of purpose was a need identified and is part of the values that Transforming Age/Evergreen Court supports and encourages. For Chief Seattle Club members, it was something to keep not just their body warm but to warm their hearts with the thought and care of all who contributed. Perhaps this could be a model for others working their way through the challenges of Covid in many communities.
Note:
Evergreen Court is part of non-profit, Transforming Age whose mission is to enhance the lives of older adults by integrating housing, community services, technology, philanthropy and partnerships.
Chief Seattle Club is a human services agency, day center, and a sacred space to nurture, affirm, and renew the spirit of urban Native people.